Assassine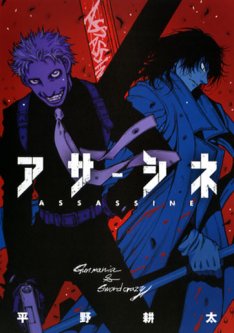 Information
Title:
アサシネ
Author:
HIRANO Kouta
Original Run:
October 27, 2010 – Ongoing
Published by:
Comic Birz (Gentosha) & Comic Rex (Ichijinsha)
Volumes:
9+ Chapters
Genre:
Action / Drama / Mature / Sci-fi
Assassine (アサシネ, Asashine) is a Japanese manga series written and illustrated by HIRANO Kouta.
It is the near future and the age of criminal organizations fighting for territory with their own crew has ended as they figured that it was neither economical nor practical. The new method of territory warfare is done with each criminal organization hiring an assassin and betting their land on which assassin survives the modern day coliseum.
Bando Eiji aka Gun Mania is a top rated assassin for the Kuroyanagi group. A young man named Kusano Nonomura of the now overthrown Kusano organization seems to have a vengeance against Bando, the Kuroyanagi family and the entire criminal world. Blood will be shed very soon.
Assassine was originally serialized in Ichijinsha's Comic Rex magazine from 2010 to 2012, but later in 2013 moved to Gentosha's Comic Birz.
Manga Guide
Edit